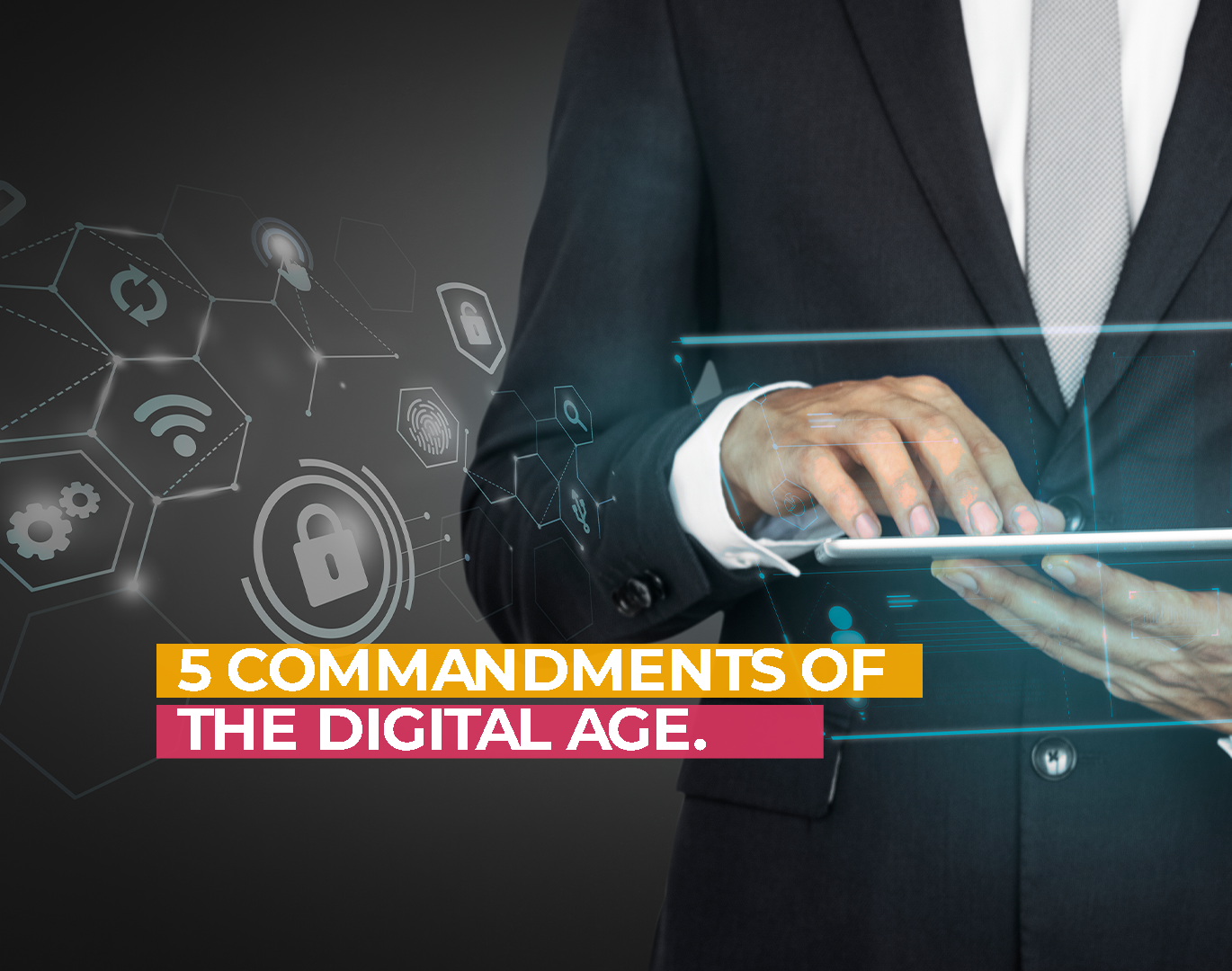 5 COMMANDMENTS OF THE DIGITAL AGE.
Over the years of human history, we have experienced various ages of technology – from the Stone Age (2500 BC) to the Industrial Age (between the 18th and 20th centuries) and now, we are living in the Information Age, also known as the Digital Age. This technological age began with the advent of the internet and has fast developed, creeping into every fiber of our human existence today, with its unique and functional technologies.

As with every other age in human history, the Digital Age comes with its tools, devices and systems. It is important to understand how they work and position yourself to remain relevant in this age regardless of when you started as a brand. The following are five rules of engagement that will keep you thriving in these information-centered times.
HAVE NO OTHER MESSAGE BUT YOURS
To thrive in this digital age when everything is so intertwined and mimics of all kinds pop up the moment anyone comes out with anything remotely successful.  Also, because of the information overload, it is easy to get carried away with the latest trends, forgetting your "Why". This is why it is very important that you know, without a doubt, what you are all about as an organization. The stronger your understanding of your message is, the better you will be able to communicate it consistently over time.
KNOW YOUR TRIBE 
Every person/business/organization has a "tribe" that's loyal because they can relate to the brand story. In Digital Marketing, they are referred to as your target audience and there is a persona they have. Discover who these people are and reach out to them via all your platforms.
YOU MUST HAVE A WEBSITE 
Unlike old times when a physical space was your primary location, the Digital Age is quickly making it compulsory for every organization (big or small) to have a virtual location that their target audience can visit to interact with them. This location is called a website and can be created for free with easy-to-use, no-code web development platforms like WordPress or with the help of a Full Stack Developer.
YOU MUST BE ON SOCIAL MEDIA 
Gone are the days when social media was simply an avenue to keep in touch with friends and family. Now, even businesses, no matter how formal, need some form of social media presence in addition to their website. It is best practice to start with the top 2 social media platforms that align with your brand goals and persona. Also, the platforms you choose must have your target audience for you to have a consistently thriving social media presence which ultimately leads to profits of all kinds.
INVEST IN VIRTUAL/ONLINE CUSTOMER SUPPORT 
"Customer is always right" is an ageless saying which seeks to emphasize the need to treat customers with uttermost respect and consideration. Indeed, what's a business without its customers/clients? And seeing that customers are fast moving online, as a business/organization you need to invest in your virtual customer support. Meet your customers/clients where they are and attend to them as promptly as possible.

Are you abiding by these rules? If yes, keep it up! 

Do you need help with your website or establishing your social media presence? Contact us today by visiting our website.