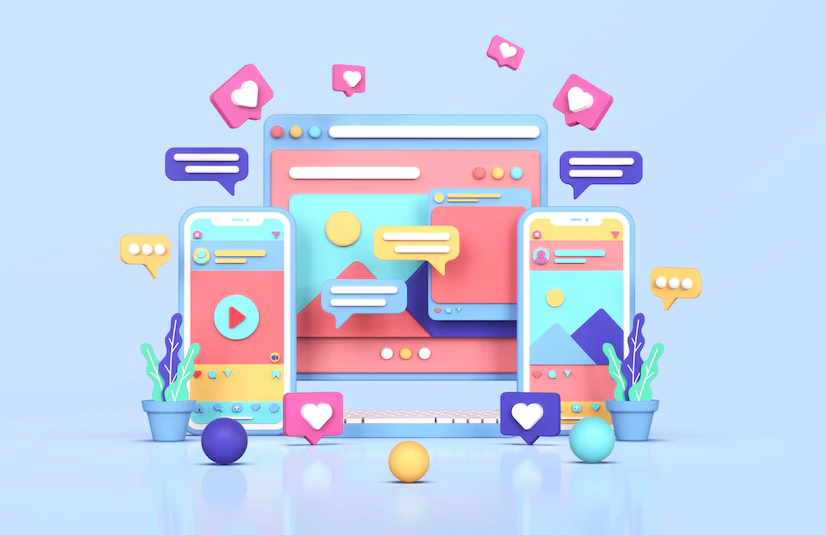 Why does my business need Digital marketing now? – 9 benefits of Digital Marketing to your business
It's a great idea to market your business.  And the need to market your business will always arise until you suddenly emerge out of nowhere, previously unknown, however, by some stroke of luck, your target audience knows exactly when you kick start your business and fall over themselves to patronize you.
It's extremely unlikely this will happen. In fact, it's impossible.
So, saying it's a great idea to market your business is putting it mildly. It is exceedingly important to market your business. Traditional marketing involves a lot of talking to your clients and your audience meeting you at some place or point.
Digital marketing however allows you to talk with your audience and helps you to take your business where your audience already is – online!
Why does your business need Digital Marketing now?
The number of smartphone users in Nigeria is expected to grow to more than 140 million by 2025 and smartphone penetration will increase to around 60 percent by 2025. What is even more interesting is that no one wants to use a mobile device or a desktop if it's not connected to the internet.  
This means that internet users in Nigeria (and indeed globally) will increase drastically before 2025. The implication of this projection is that internet penetration, and consequently, the effect of digital marketing on your business will skyrocket by over 100%. Information technology has changed our lives and now it's changing traditional marketing methods into digital marketing
So what is Digital Marketing? Simply put, Digital Marketing is marketing that involves internet and online-based digital technologies including desktop, mobile phones and other electronic devices (there is also the rise of smart televisions that can assess the internet)
Digital marketing acts as a communicator with your  potential customers through social media, search engines, email, content, images, podcasts, ebooks, newsletters, etc. 
There has been a rapid rise of digital marketing for businesses. In fact, it has become an indispensable strategy for businesses and here is why.
What are the benefits of Digital Marketing?
1. It builds trust In Your Brand
With effective digital advertising and marketing efforts, positive associations around your brand grow in your audience's mind. This triggers interest, trust, loyalty, and sometimes, faith in your brand. 
In this way, Digital marketing enhances brand awareness, recognition, and recall in a stealth manner. This passive penetration of your audience's mind strengthens the purchase desire in a more organic fashion and gives the consumer the freedom to convert on their own terms.
Also, the presence of your brand on multiple platforms provides the option for customers to rate your services regarding interaction with your brand.
A positive and favourable review left by a satisfied consumer causes new ones to immediately develop an interest in what you offer. This creates a strong brand image in the minds of new consumers, resulting in more conversions of visitors to customers.
2. It allows you to effectively target your likely customers
Traditional marketing models still have some impact, no doubt. However, when you purchase billboard space or place an ad in a magazine, you're taking a shot in the dark that this messaging will reach its intended audience, right?
Although there are ways to increase your chances of success with traditional marketing tactics, it simply doesn't offer the same targeting capabilities as digital marketing.
With digital marketing tools, you can be proactive and ensure that the right consumers (that's your target audience) view your content. You can place your marketing ads or campaign right in front of your most likely consumers.
For example, SEO (Search Engine Optimization) allows you to reach consumers who are searching the internet for content and topics that are relevant and specific to your business. While pay-per-click, display and social media advertising enable you to target consumers who will most likely be interested in your products or services based on demographic information and general characteristics.
By using these digital marketing tools, your reach to the audience you're targeting improves. All these, within your budget.
Ultimately, you're able to conduct the necessary research to identify your most likely buyers and refine your marketing strategy to ensure that you're reaching the audience most likely to buy from you.
So, you take comfort in the knowledge that you are spending money on ads that will reach your most likely consumers rather than taking a shot in the dark and hoping a member of your target audience sees your message.
3. Digital Marketing Improves your conversion rate
 Perhaps one of the most notable benefits of digital marketing is the improvement in your conversion rate – turning your website visitors or social media followers to customers.
This is a direct effect that digital marketing has on your conversion rate is that it enhances lead generation.
Lead generation is the process of attracting and converting total strangers into people who have genuine interest in your business and are likely to buy. Digital marketing enhances lead generation due to your ability to target more specific leads. 
When you focus on people more likely to be interested in your business, you increase your chances of earning a conversion and increasing business profit.
In addition, digital marketing allows you to connect with consumers who are browsing and consuming content on their mobile devices. According to statistics, over half of online users are accessing the web from a mobile device, so your ads reach more people on mobile devices, tablets, and desktop computers.
4. Digital marketing helps you build a better relationship with your customers
 As long as your business has a solid online presence, your customers will always find you.
 With digital marketing (especially social media marketing), consumers can swiftly access your contacts to reach you easily. Even better, you can get information about your consumers – including contact details – create a mailing list, and send periodic emails specific to your consumers. 
You can also send updates to your customers regarding special discounts, new products or services, new coupons, and products available. Closing a sale will no longer mean the end of the relationship, rather, after each sale, interaction with the consumer continues. This type of digital marketing is email marketing.
Your content marketing and social media marketing can be optimized to boost audience engagement with your brand. By publishing relatable and personalized content, it's easier for your audience to 'like' your brand and want to buy from you.
Besides engagement, you can also build authority through blogging posts on your website and social media content, thus induce customer confidence in your brand.
With analytics, digital marketing provides key insight into your audience. This guides the nature of the content you should put out at any particular time and helps you to be customer-centric
5. Enjoy 24/7 Marketing
With online marketing campaigns, you can advertise your business 24 hours every day. So sleep easy with the confidence that your targeted ads are running 
Time variations in the different parts of the world will not affect your campaigns. Your target customers will access your website and purchase goods and services irrespective of the time or fear of closing hours. 
6. Respond to Customer's Problems Fast!
You achieve unbelievable client satisfaction with digital marketing.
Your website and social media page can easily be converted into a place where the customer can ask questions, give suggestions, and take the relationship with you to a seemingly personal level.
Since these media make it possible for you to directly address client's problems through any platform they prefer, there's a minimized time lag between identifying an issue and responding to it. This improves customer satisfaction with your service.
7. It is measurable
Digital marketing gives you a comprehensive, start-to-finish view of all the metrics that might matter to your company, such as impressions, shares, views, clicks, and time on page. This is one of the biggest benefits of digital marketing. While traditional advertising can be useful for certain goals, its biggest limitation is measurability.
Unlike most offline marketing efforts, digital marketing allows marketers to see accurate results in real-time. Also, with digital marketing, you can measure the ROI of any aspect of your marketing efforts like website traffic, content performance and lead generation.
8. It is more cost-effective than traditional marketing methods.
Since you can track campaigns on a daily basis, you can reduce or totally withdraw your investment on a certain channel if it isn't demonstrating high returns on marketing investment (ROMI) . The same can't be said for traditional forms of advertising. It doesn't matter how your billboard performs —  whether or not it converts for you, it costs the same.
Plus, with digital marketing, you have complete control over where you choose to invest. For example, rather than paying for PPC campaigns, you can choose to spend money on design software to create high-converting Instagram content.  A digital marketing strategy allows you to continuously pivot and gives you flexibility, ensuring you don't waste revenue on channels that don't perform well.
9. Digital marketing lets you compete with big brands in your industry.
If you own a small business, it's likely difficult for you to compete with the major brands in your industry, many of which have enough resources to invest in television commercials or nationwide campaigns. Fortunately, there are plenty of opportunities to compete with your biggest competitors through strategic digital marketing initiatives.
For instance, you might identify certain long-tail keywords that relate to your product or service, and create high-quality content to help you rank on search engines for those keywords. Search engines don't care which brand is biggest — instead, search engines prioritize content that resonates best with the target audience. Also, social media enables you to reach new audiences through influencer marketing. 
Conclusion
Digital marketing works for any business, in any industry. Regardless of what you sell, digital marketing still involves building buyer personas to identify your audience's needs and creating valuable online content. Click here to learn more about digital marketing and how you can use it to grow your business.